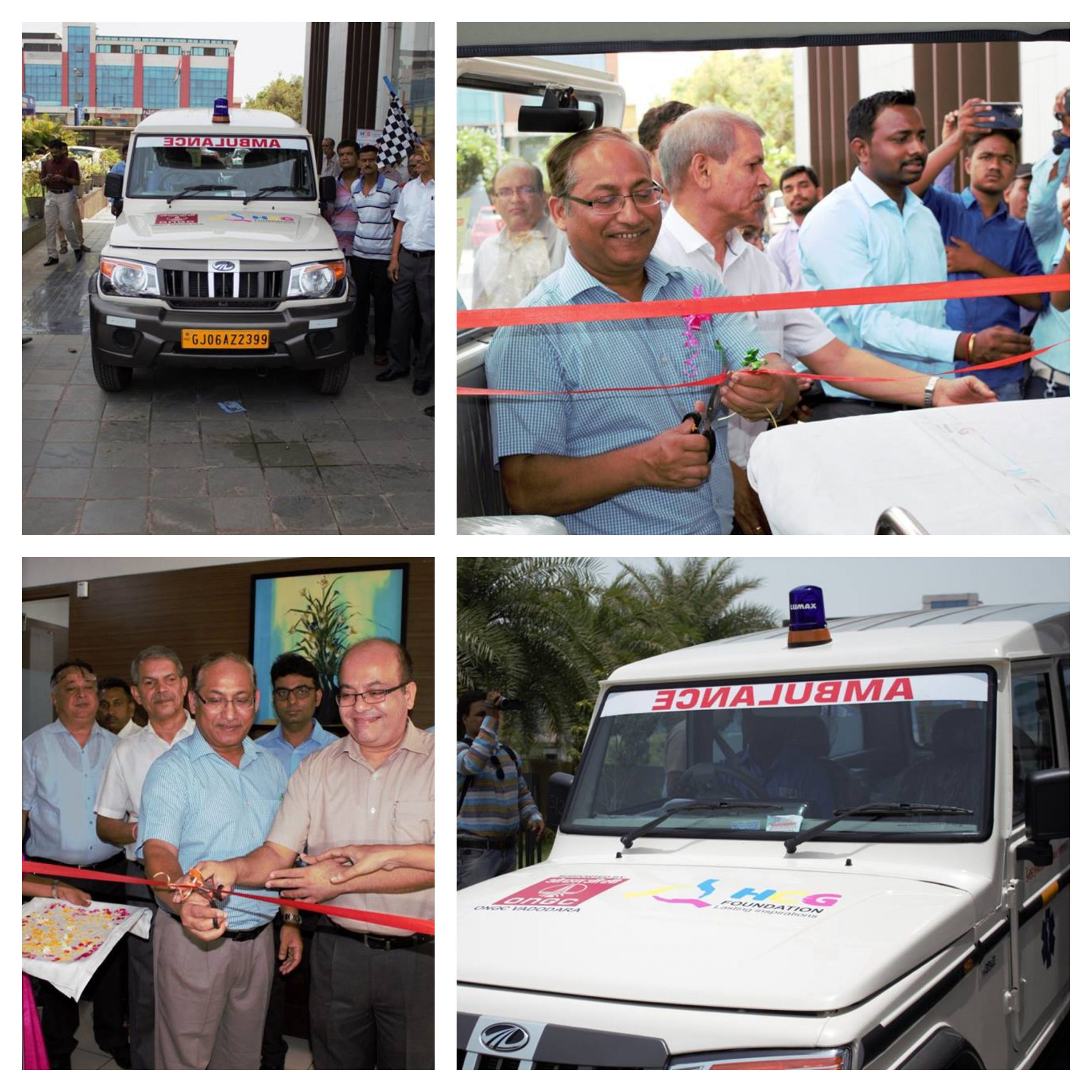 HCG Cancer Centre, Vadodara celebrates completion of two years by launching free cancer screening ambulance service and dedicated Head & Neck Cancer Clinic
HCG – The Specialist in Cancer Care, Vadodara has completed it's two years of adding life to years and on this occasion, HCG Foundation with the help of ONGC Vadodara is launching free cancer screening ambulance service, which will make preliminary cancer awareness and screening accessible to peripheries and villages. HCG also inaugurates dedicated Pre – Cancer Clinic & Head and Neck Cancer Clinic to observe World No Tobacco Day, which is marked, every year on 31st May and encourage early diagnosis. Commencement of the novel awareness drive service and inauguration Pre Cancer Clinic along with Head and Neck Cancer Clinic was done by the hands of Shrimati Ranjanben Bhatt, Member of Parliament and Shri. Arun Kumar – Executive Director, ONGC Vadodara.
In India, it is estimated that 14.5 lakhs people are living with the disease, with over 7 lakhs new cases being registered every year and 5,56,400 deaths which are said to be cancer-related. Such measures will help to reduce the burden of cancer from society. Thus, commencing an innovative awareness drive, wherein the ambulance funded by ONGC, Vadodara will visit peripheries to conduct free cancer screening and awareness drive is need on the hour. HCG is also encouraging early detection of cancer, by presenting Pre – Cancer Clinic & Head and Neck Cancer Clinic. The Head & Neck Clinic will remain open on every Monday and Thursday, 4 to 6 pm. Under this, one can avail head and neck cancer screening for free on every 2nd & 4th Saturday, till 31st July, 18.
The centre has just completed its two years of helping people fight cancer and have achieved milestones in terms of touching more than 14,500 lives giving a strong fight against cancer in a short span of two years. The centre has performed 1608 major cancer surgeries, 1318 radiation treatments, more than 4500 chemotherapies & more than 1900 PET CT Scan. HCG Vadodara has been at the forefront of creating awareness for cancer and thus have organized many social awareness programs to help people understand cancer.
Dr. Sachin Wani – Consultant Head & Neck Surgical Oncology, HCG Cancer Centre Vadodara, said "The incidences of head & neck cancer are increasing and addiction of tobacco is one of the prime causes for it. Thus, the clinic will surely contribute in detecting the oral and thyroid cancers along with Head & Neck tumors at an early stage which in turn will improve survival rate."
Dr. Rajiv Bhatt – Director – HCG Cancer Centre – Vadodara, said "We thank Vadodara city for supporting & making HCG their trusted cancer care partner. Our mission is to build a cancer free nation & we intent to accomplish this by adopting latest technology, addressing the main cause of cancer and developing personalized treatment for each patient. We are continuously working towards rendering appropriate treatment to the patient, so that the survival